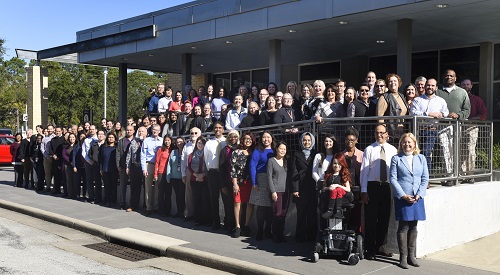 Welcome to the Center for Innovations in Quality, Effectiveness and Safety (IQuESt). IQuESt is a partnership between the Veterans Affairs Health Services Research & Development Service and Baylor College of Medicine (BCM). We are one of 18 competitively awarded Centers of Innovation (COINs) funded by the Health Services Research and Development Service of the Veterans Health Administration (VHA). IQuESt has received generous support from the Michael E. DeBakey Veterans Affairs Medical Center from its establishment in 1990 as the Houston Center for Quality of Care & Utilization Studies. In 1998, the Section of Health Services Research (HSR) of the Department of Medicine, Baylor College of Medicine (BCM), became a co-sponsor and academic affiliate.
Research conducted by MEDVAMC staff ensures Veterans access to cutting-edge medical and health care technology. The MEDVAMC Research & Development (R&D) Program is an integral part of the medical center's mission and plays a very important role in the health care Veterans receive. The production of new knowledge, techniques, and products improves prevention, diagnosis, treatment, and control of the many diseases faced by our Veterans. MEDVAMC researchers work closely with those at our affiliated medical school, BCM, to further extend their efforts to sustain the lives and improve the quality of life of the Veterans and their families. Today, VA is a leader in many areas of research.
BCM is a health sciences university that creates knowledge and applies science and discoveries to further education, healthcare and community service locally and globally. Their vision is to improve health through science, scholarship and innovation. Located in the Texas Medical Center (TMC), BCM educates healthcare providers and scientists in a diverse array of programs considered among the elite in the world. U.S. News & World Report ranked BCM first in Texas for the best medical school and 22nd in the nation for research. BCM's Office of Institutional Diversity, Inclusion & Equity partners with leaders across the College to improve cultural competence and health equity within the education, research, clinical care and community outreach mission areas.


All IQuESt's faculty have appointments at BCM, and some hold appointments at Texas A&M University, Rice University, The University of Texas Health Science Center-Houston, The UT School of Health Informatics, and the University of Houston.

On an average day in IQuESt you could encounter a team consisting of a primary care doctor, a computer scientist, an industrial/organizational psychologist, a psychiatrist or other medical subspecialist, a social worker, a biostatistician, and a communications scientist-all teaming up with the goal of studying how to deliver health care with the highest quality and efficiency. Our overall goal is to make a positive impact on health delivery and quality.
IQuESt Facts
· Largest center for health services research in the Southwest
· Houses nearly 200 faculty, postdoctoral fellows, trainees and research staff in 36,000 square feet of space
· Received over $26.9M in federal grant funding in 2020
· 14-year history of VA contract work with 21 Veterans Integrated Service Networks (VISN)
· In the past decade, work has contributed to:
o 55 papers cited in 14 Institute for Healthcare Improvement reports
o 133 papers cited in 70 clinical guidelines for patient care
o Five papers cited in three Centers for Disease Control recommended programs
o One paper selected by Faculty of 1000 as one of the top 2% of all published articles in the biology and medicine sciences
More about us
· Baylor College of Medicine Health Services Research
· Leadership and Investigators
· Driving Directions/Map HTML | PDF