Hardeep Singh, M.D., M.P.H.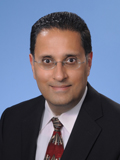 Chief, Health Policy and Quality Program, Houston VA Health Services Research and Development CoE, Michael E. DeBakey VA Medical Center
Director, VA Center of Inquiry to Improve Outpatient Safety through Effective Electronic Communication
Assistant Professor, Department of Medicine, Section of Health Services Research, Baylor College of Medicine
Email: hardeep.singh@va.gov
Phone: 713-794-8515
Research Interests
Understanding and reducing diagnostic errors in the ambulatory care setting, especially those that involve missed and delayed cancer diagnosis
Use of health information technology to identify and reduce diagnostic errors
Patient safety related to electronic health record implementation and use
Education
M.D., All India Institute of Medical Sciences, New Delhi, India
Residency, Baylor College of Medicine, Houston, Texas
M.P.H., Medical College of Wisconsin, Milwaukee, Wisconsin
Awards and Activities
Recipient of a K23 research career development award from the NIH, 2007-2012
Several federally funded grants from the VA and AHRQ
Patient safety and informatics work heavily cited in several national policy reports, including the AMA report, "Research in Ambulatory Patient Safety, 2000-2010: A 10-year Review" (9 papers) and the 2011 Institute of Medicine Health IT Safety report "Health IT and Patient Safety: Building Safer Systems for Better Care" (4 papers).
Recipient of the AcademyHealth 2012 Alice S. Hersh New Investigator Award for high-impact work of national significance in the area of patient safety and diagnostic errors.